CPG Camp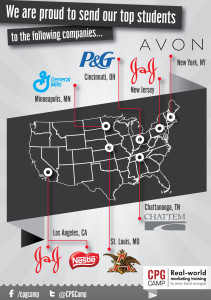 Hey Rockstar!  So glad to see you're going to get Rockin' with CPG Camp!  I think its a total game-changer and an awesome way to stand out among the crowd and get noticed by top companies.
What's your top choice?
P&G * Nestle * General Mills * Chattem * Budweiser * Avon * Johnson & Johnson
---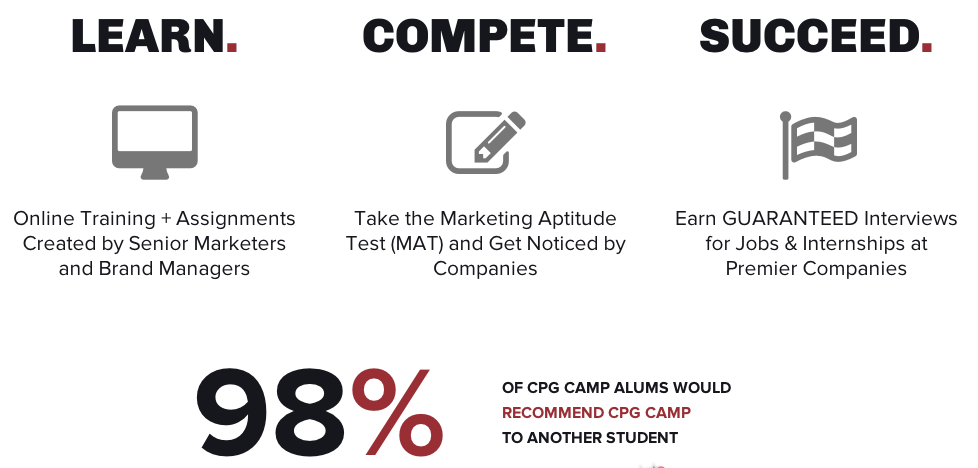 ---
What is CPG Camp?
CPG Camp™ is an online boot camp that teaches highly relevant, real-world marketing and brand management skill sets. Its curriculum was designed by senior marketers from a variety of industries. Our top students earn guaranteed interviews at prestigious Consumer Packaged Goods companies.
---
How Does It Work?
Students receive real-world marketing training, insights, and assignments through an intensive online boot camp

The curriculum is self-paced and can be taken any time of the day
Each module takes 30 minutes to 1 hour

Upon completion of the training, students take the Marketing Aptitude Test (MAT), which tests knowledge and application of the CPG Camp curriculum

The highest scoring students on the MAT will be virtually interviewed by the CPG Camp team, and the students that pass this screening will be asked to
interview at 1 or several of our partnering companies for Fall 2014 [interviews begin in early October]
The MAT is 90 minutes long and must be taken in one sitting in front of a webcam accessible computer; a calculator is needed
Students can only take the MAT one time in 2014

Upon completion of the training, students also enter into the CPG Camp talent database

Marketing companies get secure and exclusive access to our talent database and can search in real-time, any-time in order to fill career openings throughout the entire year
When there's a match, CPG Camp provides additional preparation and training services to select candidates in order to better prepare them for their upcoming interviews
---
This is going to be great!  To get rockin' with your exclusive 25% off CPG Camp *this week only*,
enter the code "cpgrockstar" when you purchase or just click the link below!
---